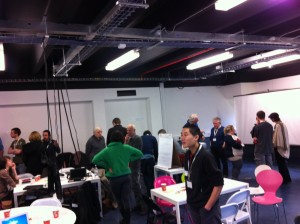 The weekend of March 23rd and 24th 2013 saw the inaugural NHS Hack Scotland held at TechCube in Edinburgh. Organised by a crack group of volunteers led by Kirstin Leath, a Graduate Management Trainee with NHS Scotland, the weekend went off without a hitch and introduced some much needed enthusiasm into the public sector around open data and its creative uses. In the run up to the hack weekend, face to face meetups were organised for people to get to know each other and, very importantly, to give people who were unfamiliar with data hacking the opportunity to learn more. For some people 'hack' has unfortunate connotations attached to it and there were those who had anxieties that the weekend's gathering would include illegal activity so it was helpful for the event organisers to give space and time before the event to people who had questions about what would actually happen.
The thoughtfulness behind the meetups and all the promotional activity that preceded NHS Hack Scotland may have had some part to play in the number of NHS staff who attended. An impressive collection of GPs, paramedics, surgeons, occupational therapists, psychologists, nurses and other medical professionals joined in pitching ideas for development on the first day and in helping the technical people get to grips with how things work on the front line in order to develop more useful and streamlined prototypes for the final day. It's so important for people who know how to handle raw data to connect with the practitioners or citizens who can inform how the data can be turned into something useful and NHS Hack Scotland really got the mix right. Not only were frontline NHS staff on hand for developers to bounce ideas off of but the frontline staff had the opportunity to learn more about why openly accessible data is important and useful. I hope they take that back to their workplaces so we can see a real shift in perception around open data from public bodies.
NHS Hack Scotland followed the standard format of hack events — anyone with an idea pitches it on the first day, individual volunteers choose which idea they'd like to help develop, teams are formed and work begins on a prototype that is presented to a panel of judges on the final day. There was a great variety of ideas pitched and worked on:
a website to help citizens navigate the vast array of urgent care services available to them in order to direct people away from A&E
a medical language predictive text tool to save people time in typing up notes or taking notes while in a moving vehicle
an app to help people who are undergoing a certain type of anxiety therapy to easily and frequently record their anxiety levels
a map of GP surgeries, their doctor to patient ratios, area population growth and GP surgery planning applications in order to better determine where new surgeries are needed
a website to help trainee anaesthesiologists find information about hospitals they will do placements in and to communicate with each other
an app for paramedics to use while addressing non-urgent illnesses that would allow them to signpost the patient to local services that can help them as opposed to taking them to A&E or leaving them with no information about other treatments
an app or website to gamify health related goals and achievements
You can see technical information about some of the projects on the NHS Hack Scotland website.