http://scottish.parliament.uk/opendata
. The page is just a starting point and Parliament is looking for suggestions and feedback on how information is presented and what type of data should be included over time. They made it clear that they need to understand what people need and want in order for them to do data better, so please do send suggestions and comments to
foi.officer@scottish.parliament.uk
Chris told us that SCVO is actively working to look at how they can open the data they hold about the third sector in Scotland. SCVO has created a database called
Milo
which holds a single aggregated view of the third sector in Scotland, comprising some 37,000 organisations and around 100,000 volunteers. The data in Milo is entered by each local authority's
Third Sector Interface (TSI)
, an officer who oversees the voluntary organisations in their council area. Since TSIs also use Milo as their CRM platform, not all data from Milo can be shared publicly. Nevertheless, the
Volunteer Scotland website
exposes all the volunteer data from Milo while the
Get Involved
website exposes organisational data. Since a lot of charities don't have websites, the publicly available data from Milo on Get Involved and Volunteer Scotland can serve as a good 'sticking plaster'.
The next steps are to link existing platforms together to help citizens connect different pieces of information; for SCVO to work on doing a better job of putting out machine readable formats and APIs (something Chris estimates could be done by early 2015); and to create an infrastructure for open data in the third sector through partnerships that build useful services and applications for citizens.
Emilia Hanna — Friends of the Earth Scotland
Emilia started her talk with the proposition that air pollution is the 'invisible killer' of Scotland. Scotland is four years behind schedule in meeting legal requirements for clean air levels and Friends of the Earth Scotland is campaigning to build a media profile about the issue as well as tap into health messaging. While the organisation is trying to feed into national conversations and local councils' air quality action plans, they face a number of hurdles in accessing air quality data, such as extracting information from piles of council PDF documents. So they'd appreciate any support that Open Knowledge Scotland members can give them.
Ali King — RDFIO: Importing linked data into Semantic MediaWiki
Ali pointed out that the representation of women in Open Source Software is even worse than in the software industry as a whole, and that she has been participating in a three month project over the summer which is trying to address this issue. The project,
RDFIO
, involves her working as a software development intern at Wikimedia and is focussed improving the ability of semantic mediawiki to import and export structured information in RDF format.
Ali is working with collaborators in Sweden and Canada, and is building up momentum in becoming knowledgeable about the Mediawiki software architecture which her work will contribute to.
Alistair Sloan — What Do They Know
Alistair gave an overview of
What Do They Know
, an initiative which has been successful in making it easier for citizens to make FOI requests and to review requests that have been made in the past. This kicked off really good conversations and questions for Alistair about the various barriers to successfully completing an FOI request and whether or not FOI is the beginning or the end for open data. There were questions about what 'reasonable' means with regard to a request, and how to counterbalance the perceived cost of an organisation complying with an FOI request with the potential for saving significant amounts of money if inefficiencies and waste are uncovered as a result of the request.
David Morrison — Code for Europe
David is working with East Lothian council on the
Code for Europe
programme. This is is loosely modelled on the
Code for America
initiative, and aims to use agile software methodologies to solve local civic challenges.
Nesta
has been instrumental in bringing the initiative to Scotland and four Fellows — Andrew Sage, David Morrison and Alan Gardner — have been appointed to work with the local councils in Aberdeen, Clackmannanshire, East Lothian and Edinburgh, respectively. Although each of the Fellows is addressing issues relevant to their own particular council, the solutions are designed to be transferrable to other regions and cities. The Fellowships, which run to the end of the year, will contribute to the development of regional data portals and a portfolio of 'showcase' applications, while tapping into existing civic app projects. We're excited to see all the good things that come out of this initiative.
Jane Morgan — Scottish Government Strategic Action Plan for Data
Jane briefly announced that Scottish Government has published its draft Strategic action plan for effective and responsible collection, management and use of data across Scottish Public Services. This forms part of their wider Data Vision for Scotland, and they are looking for feedback, by 25th August, on the following points:
Do the objectives identified within the action plan fully support realisation of the vision?
Do the actions identified within the plan take the appropriate first steps in helping us to meet the objectives?
The action plan sets out the key priority actions which we believe need to be undertaken in the short term. Have we identified all of the priority actions?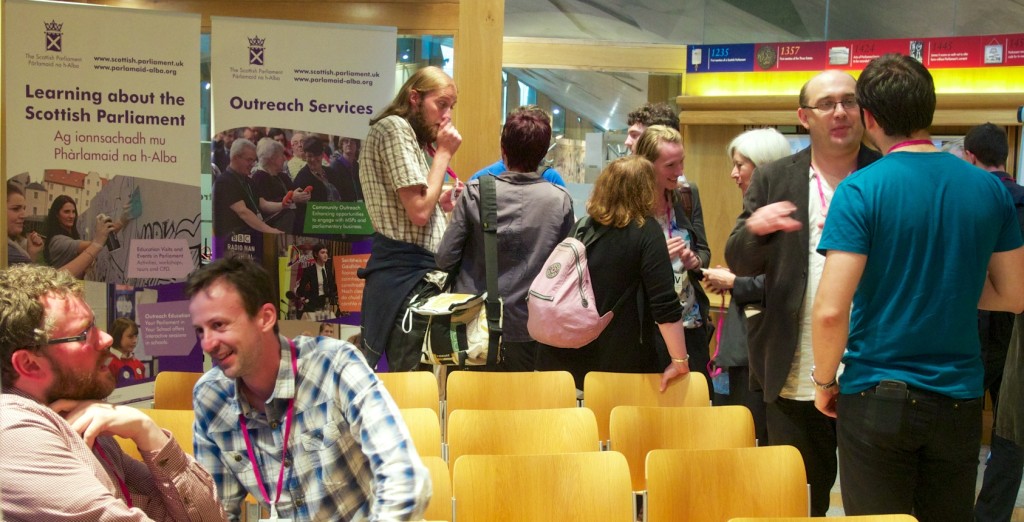 We were honoured and excited to have been hosted by the Scottish Parliament, who took the opportunity to announce their new open data page at