Many thanks for Nicola Osborne for taking copious notes that formed the basis of this post.
Recordings of the meet-up are available: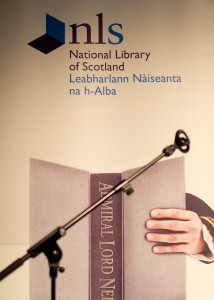 January's Open Data meetup was hosted once again in the fantastic National Library of Scotland, which is beginning to establish itself as an exciting hub for open knowledge in Scotland. There was a great turn-out, with strong representation from Scottish Government, Wikimedia and OpenStreetMap.
Publishing metadata and digital content at the NLS — Gill Hamilton
The National Library's own Gill Hamilton opened the evening with an update on open activities at the National Library of Scotland. The NLS is taking an increasingly enthusiastic approach to open data, particularly through its current Wikipedian-in-Residence programme, though there are still some issues that the library needs to resolve going forward.
In particular the NLS is currently debating what route to take with regards to publishing its metadata. Currently the library has no existing policy on this, and the complexity of administering it can prevent the NLS giving free and open access to all customers. Librarians have moral and ethical issues about digitisation of materials in the public domain. They currently apply licences to content, but should they?
A clearer policy for the NLS is planned, though there is a lot of discussion currently taking place as to what that should be. There will likely be a single license for metadata and one for data, with exceptions possible but requiring strong justifications. As to what these licenses should be, Gill has made the following proposal:
Metadata will be released into the public domain under CC0.
Four options have been proposed for digital content:

CC0
CC0 for low quality material and CC-BY-NC-SA for high quality material.
CC-BY-SA (low) and CC-BY-NC-SA (high).
One of the key issues under discussion is the library's ability to generate revenue (although the NLS recognises that open licensing doesn't stop them generating income). One possibility is that the library could be more restrictive, for example by allowing companies to digitise material with the restriction that it must be released into the public domain after a certain point. This would follow the leadership of institutions such as the British Library, and the National Library of Sweden.
There is a small majority within librarians in the library towards CC0 but the next step is to take this proposal to income generating colleagues to see what the consensus is.
Regardless of that decision, the library's World War I photos will soon be released to the European Library and Europeana, and the metadata will all be CC0.
Wikimedia UK and the Open Coalition — Stevie Benton
Stevie Benton made a special visit from London to attend the meet-up. He gave a short overview of Wikimedia UK and also introduced a new project, the Open Coalition.
Wikimedia is responsible for a number of projects; Wikipedia is the best known but there is also Wikinews, Wikimedia Commons, and many others. Most of the central administration for these takes place in America under the umbrella of the central Wikimedia foundation. The role of Wikimedia UK, which is one local chapter among many, is to encourage UK participation in these projects, partly by working with cultural, charity and educational organisations.
Wikimedia UK is a not-for-profit organisation and has been a charity as of 2011. It has 10 employees, a number of Wikipedians-in-residence and thousands of UK-based editors and volunteers. They encourage open licensing of cultural material and are also involved in projects to make Wikipedia available to those with no Internet access. The central Wikimedia Foundation meanwhile are currently trialling open source software for offline reading called Kiwix in Uganda, and are also working with phone companies to allow access to Wikipedia for free.
Wikimedia UK have recently embarked on a new project called the Open Coalition. The idea is that there are now a number of groups and organisations working on Open issues, but there is not enough connection between these groups. The Open Coalition is an attempt to reach out to groups such as the Open Knowledge Foundation, Open Commons, Mozilla and OpenStreetMap to explore ways in which they can work more productively together. Ideas for what this could mean include:
Hosting events for open organisations and communities.
A web presence exploring open issues.
A content aggregator for blogs, social media, event calendar and other useful resources.
A booklet and guide for those wanting to become more open.
Sector recognition, aiming for people to discuss being 'open' in the same sort of way as they now discuss being 'green'.
Grainne Hamilton explained the idea behind openbadges.org. Conventional degrees and diplomas give a sense of what people can do skills-wise, but people have very different strengths and competencies that can be hard to evidence. Two people with the same degree might have quite different qualities — how do you stand out from the crowd and from your peers? And how can employers see where differences lie, particularly with employment increasingly taking place online.
In 2010/11 Mozilla got together with the HASTAC community to develop a system that would be open for earners, issuers and displayers of credentials. Open badges are essentially just digital credentials. These are images displayed online but with metadata behind them, like coats of arms or kite marks. So the metadata behind the badge, if seen on a LinkedIn profile for instance, links back to standard information such as badge name description, criteria, or the issuer.
Open Badges, then, are about assessment, and about an open infrastructure for issuing, managing and sharing the credentials. The framework has been developed by Mozilla to be as open as possible, and they are currently working on BadgeKit to bring together tools, resources and APIs for the display of open badges.
In Scotland, Jisc RSC has been piloting Open Badges, the SQA have made a public statement supporting the concept, and Borders College has started issuing them to students and staff. Grainne coordinates the Open Badges in Scottish Education Group (OBSEG) to raise awareness and support uptake.
Open Badges for the Open Knowledge Foundation — Graeme Arnott
Graeme added a short 'supplementary' talk to Grainne's on Open Badges. He described how he has been in discussion with OKF Central about piloting Open Badges to recognise contributions to the open community by volunteers. He remarked that while badges initially seem just to be online digital images, when you drill down into what contributions should be rewarded it rapidly becomes more complex.
The project is on the OKF wiki already, and there is also a project diary Open badges are OK. The aim is to have something in place and either issued or issuable for the OKFestival in Berlin in July 2014.
Scottish Neighbourhood Statistics and Open Data — Sara Grainger
Sara Grainger (Office of the Chief Statistician and Performance) discussed the way in which data from Scottish Government, including Scottish Neighbourhood Statistics (SNS), is currently made available in the form of PDF files, Excel spreadsheets and CSV files.
The unit is aware that that these formats are often far from ideal, and that is something they are aiming to improve, with the intention of making SNS data more discoverable, usable and accessible to a wider audience. There will be major updates over the coming year, and these will be evidence based, private sector friendly while also keeping local authority statisticians happy. But they also want to make all sorts of data available to wider audiences.
To help with this, Swirrl was commissioned to carry out a study of Open Data (Sept–Nov 2103) for the Scottish Government, with three main components: (i) understanding the data publishing and data management needs of Scottish Government; (ii) holding workshops to raise awareness of open data issues for Scottish Government staff; and (iii) creating a pilot website to illustrate how open data could improve access to Scottish Government statistical data. Of particular interest is Swirrl's excellent open data tutorial, based on the schools data incorporated in the site.
So Scottish Government have started experimenting with different ways of presenting open data can be used, but it is hard to measure the impact. For this reason Sara and her colleagues would find it especially useful if people could tell them what they want and give feedback on the http://www.opendatascotland.org website.
Swirrl has produce a report on the Open Data Consultancy.
Digital Public Services: Open Data as an Enabler — Tabitha Stringer
Tabitha Stringer works in Digital Public Services section of Scottish Government's Digital Directorate. The Directorate wants to highlight the increasing importance of data as public services increasingly become digital and online. A a Data Management Board has recently been established, with representatives from various departments in Scottish Government, and from industry, the Scottish Information Commissioner office, the NHS, and other bodies. The three main strands of work cover data sharing of personal data, so-called data linkage and data innovation &mdash which includes open data, big data and data science. The Data Management Board are eager to see more public sector data being released, while recognising that not all data can be shared openly for data protection reasons.
There isn't currently an Open Data policy in Scotland, but progress towards this goal is being made. There are some challenges ahead. These include developing an inventory of datasets held by the public sector; deciding on the relative costs and benefits of different data formats; and making data not just open but easier to find.
Tabitha pointed to a number of websites that provide information about open data available from Scottish Government: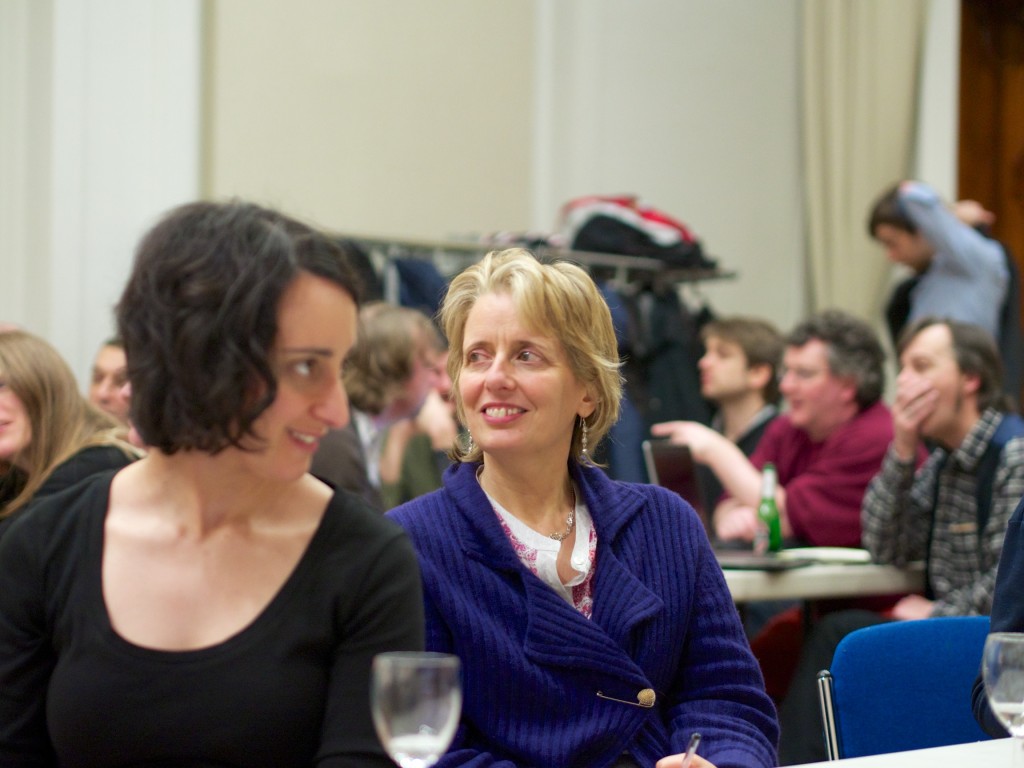 Community News and Announcements
Open Knowledge Foundation Scotland, the National Library of Scotland, OpenStreetMap and Wikimedia UK are working together to organise a three-day event, Datafest Scotland 2014, scheduled for 12–14 June in Glasgow. Datafest Scotland will be about sharing: sharing ideas, experiences, challenges, knowledge — and of course, open data.
Open Knowledge Foundation Scotland and OpenStreetMap are collaborating on a project to map unused and underused spaces in Edinburgh. There will be an in initial mapping party on March 29th in Duddingston area of Edinburgh.
Ewan Klein is involved in organising the University of Edinburgh Smart Data Hack for students, 17–21 February. Data providers include City of Edinburgh Council, Scottish Neighbourhood Statistics and Project Ginsberg.
The next OpenDataEDB meet-up will be hosted at Edinburgh Napier University on March 13th at their Merchiston campus.