It's a cause for celebration when a community can generate and sustain lots of events around openness. But it can also be a source of problems. As the Open Knowledge Foundation Local Group in Scotland continues to thrive, we are beginning to collaborate more and more with the Scottish OpenStreetMap and Wikimedia communities, and of course we also overlap with the TechMeetup people. Keeping track of the increasing number of interesting and relevant events in these communities is important to us, not least because we would prefer to avoid diary clashes. Open Tech Calendar has become an indispensable tool for helping us keep abreast of what's going on in Scotland and also making it (a bit) easier to schedule events. Open Tech Calendar lists tech events, and the 'open' in its name means two things. First, anyone can make an account and add or edit events. It works like a wiki, where every edit is versioned for safety. Second, it means 'open' as in Open Data. There are all kind of feeds that enable the data to be used elsewhere. You can import a feed directly into your personal calendar or get a news feed of events several days before they happen.
As good community members, we want to make sure that we announce local Open Knowledge Foundation events on Open Tech Calendar. But we also want to abide by the Don't Repeat Yourself principle: we don't want to maintain a separate listing of the programme of events on http://scot.okfn.org. A solution to this involves getting an event feed from Open Tech Calendar; using simple Javascript to consume JSONP data, we can automatically populate a page of events on our site.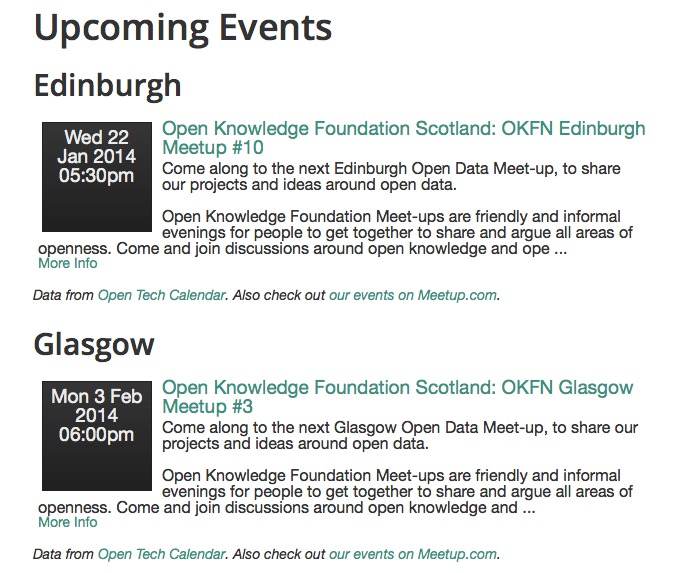 Curated lists on Open Tech Calendar are lists of events where only the person who creates them and others they specify can add events to them. We are currently using two such lists, here and here. This means we can select only events that are focussed on Open Knowledge to appear on our local events page.
Open Tech Calendar provides a simple Javascript widget to facilitate the process of getting feeds in other webpages. The widget can be used directly from their site, but the Javascript and CSS are also made available on a Github repository under an Open Source license to encourage people to take them and edit them. We did this, and that allows us to style the page so that the design fits in with the rest of the Open Knowledge Foundation theme.
Open Tech Calendar is run by an Edinburgh based company who regularly attend our meet-ups and other events. They also run a platform called Has A Calendar which lets anyone build a similar wiki calendar for their own group or shared interest. It adopts the same Open Data principles but the calendar owner can choose whether anyone can edit the calendar, or only users they specify.
In conclusion, we are proud to have an events page that is powered by Open Data!